Ask anyone in the digital marketing space about how you can sell more quickly and you'll get a unanimous answer – "run ads".
Ads do have their place in the marketing mix. But only if you have a proven ROI model.
When you're targeting a new customer segment or starting out fresh a more focused and hands-on approach is called for. The good old cold sales outreach.
Don't cringe! Use the next 5 steps to reach out to potential customers to keep your growth engine churning.
1. Start with a customer persona
First, get very clear about whom you want to reach out to.
What do they do? Where do they work? What challenges do they face?
Ideally, this should already have been covered off in your sales & marketing strategy. If not, it's easy to get started.
What you want to do is build a persona. Hubspot has a great online tool to help you create your customer's persona.
Look at your database of contacts – see any common traits?
If you're starting from scratch, start with your best guess and then validate it based on your conversations.
Your customer persona should be based on the collective identity of your customers.
It should look a bit like this (click to zoom in)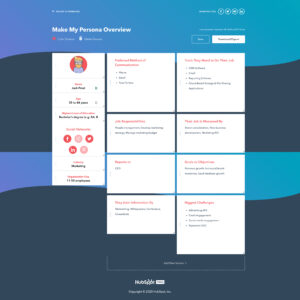 2. Shortlist the Organisations Where they Work
Start Googling for lists and directories for the type of organisations you want to target.
Directories are a great place for some types of organisations.
Consider looking at Crunchbase if your customers are startups and scaleups.
Local business listings are great for small and mid-sized companies.
If you're going hyperlocal, Google maps is a good option.
LinkedIn can work wonders if you use sales navigator.
3. Find the Key Contacts
Once you have a lost of organisations, go to LinkedIn. Search for one company at a time.
If you're targeting industry verticals within certain geographies, use PhantomBuster with LinkedIn Sales Navigator.
Don't worry about trying to recover email addresses yet. PhantomBuster is a great timesaver because it can crawl through lists overnight.
But if your list is small do this manually.
Enrich this list with the domain names of the companies.
Why? Our next genius tool needs it. Use Voila Norbert to start building a clean list of key contacts.
All you have to do is provide the name and company domain name and Norbert magically finds the best email address for you. How? I have no idea. But I like it.
4. Build Your Sales Cadence
A sales cadence is simply a sequence of actions you must take at pre-determined intervals to build a relationship with your prospect.
It's not an email nurturing campaign or an excuse to spam people.
When dealing with large numbers of prospects, it becomes very challenging to stay on top of the activities that move the ball forward with a prospect. Hence why a sales cadence is important so that you never miss a beat.
The best sales cadences utilise all communication channels – email, phone and social.
Your sales cadence will last over 6 – 10 touchpoints with each prospect.
First, do this manually to see how people respond to your messages to connect. Then scale it with something like mailshake or sales sequences in Freshsales or Hubspot.
You're not actually trying to sell anything. Invite them for a chat, compliment them (genuinely), ask for advice or share something they might find useful.
5. Activate and Monitor Progress
How would you know the ROI of your sales outreach campaign if you don't measure results?
Note every step a prospect should take to consider them a successful connection.
These are:
Email open rate
Click-through rate
Accepted connections
Call-time
Reply rate
Booking rate
Key Takeaway
Cold sales outreach doesn't have to be spammy like solar panel companies.
The most important thing to remember to not sell hard. Add value by being helpful instead. You wouldn't ask someone to marry you on the first date, right?
If you can't identify a hundred people who might be a good fit for what you have to offer, scaling to a thousand will be very difficult.